Visit our Featured Property
LODGE AT REEDFLY - BIG SKY DREAMS
5 lodging options on Yellowstone River
120 acres, 2 trout ponds
On property trout fishing
20 min. to Yellowstone National Park
Total capacity 24 people
"If you're holding out for universal popularity, I'm afraid you will be in this cabin for a very long time." JK Rowling.
---
RentMontanaCabins.com and Fishing Has No Boundaries
RentMontanaCabins.com is proud to sponsor Fishing Has No Boundaries. They are rooted in Wisconsin, but have now expanded their cause to 11 states. FHNB are a non-profit 501-C3 organization whose goal is to open up the great outdoors for people with disabilities through the world of fishing.
"We believe through education, training, and the use of adaptive angling equipment, everyone is able to share in a dream come true."
We encourage you to check out their website and consider making a contribution yourself.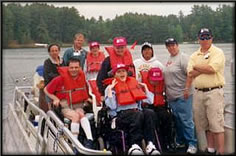 It's Cabin Time is In The News
Wisconsin State Journal/Business: Featured Article. Book Direct websites that connects rental owners/managers with renters rolls out in Wiscconsin and Montana. Webcology podcast Mogensen, Founder of JM Creative Group talks about his first website RentWisconsinCabins.com. The company now has 7 regional websites including RentMontanaCabins.com
Want to compare vacation rentals outside of Montana?
Check out our growing collection of state-specific, vacation rental websites that make booking direct a snap:

Wisconsin Cabin Rentals
Including Eagle River, Wisconsin Dells and more.
Cabin Rentals MN
Including Brainerd, Alexandria and Minnesota Lakes rentals.
Michigan Vacation Rentals
Find Lake Michigan, Lake Huron, Lake Superior vacation rentals and more.
New York cabins and cottages
Compare Adirondack vacation rentals, cabins on Finger Lakes wine trails, Lake George cottages.

Tennessee Vacation Rentals
Compare vacation rentals in Gatlinburg, Norris Lake, Pigeon Forge and more.
Kentucky Cabins
Kentucky cabins and vacation rentals in Red River Gorge, Land Between The Lakes.